Utter Command On-screen Guides

The 36 On-screen Guides are lists of helpful information that appear in a window on the right side of your screen when you call them up.

They include lists of program commands like Top Word Commands, tour scripts like the UC Whirlwind Tour, drill guides like Key Combinations Drills, reference lists like the Alpha-Zulu words, and seven custom guides that you can use to keep your own notes or lists.

This screenshot shows the UC Alpha-Zulu Words guide, which lists the radio operator words you can use as an alternative to saying letter names.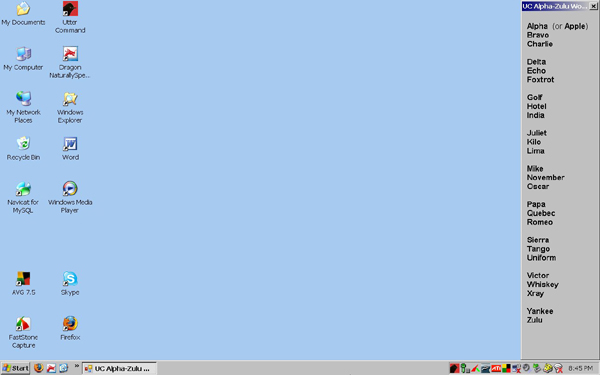 The 36 On-screen Guides


Program command lists:
Top General Commands
Top Email Commands
Top Web Commands
Top Word Commands
Top Excel Commands
Top PowerPoint Commands
Top Reader Commands
Tour scripts and drill guides:
Whirlwind Tour
Advanced Whirlwind Tour
Task Tours
Review Tours 1-10
Correction Drills
Key Combinations Drills
Text Drills 1-4
Reference lists and custom guides:
Key Names
Alpha-Zulu Words
Standard Lists
Custom 1-7
You can call up an On-screen Guide with a single command by saying "UC" followed by the first word of the guide name. You'll also find the guides in the third section of the
UC menu
.
Top command guides examples




"UC Top General"

This guide shows the basic commands for using Utter Command and controlling your computer.





"UC Top Word"

This guide shows the top keyboard shortcuts for Word.

You can say keyboard shortcuts by speech and combine keyboard shortcuts to carry out several keyboard/mouse actions at once.
Tour scripts guides examples





"UC Whirlwind"

This guide lists the commands in the Whirlwind Tour.



"UC Task"

This guide lists the commands for each of the 34 Task Tours.
Custom guides example


"UC Custom 1"

Use the seven custom guides to keep your own notes or lists.
Back to Utter Command overview
Back to Elements of Utter Command