The Redstart Reports Method dramatically reduces the time needed to dictate a report into any electronic medical records system. Physicians use familiar, notes-style dictation to produce full, formatted reports, increasing efficiency by more than 400%.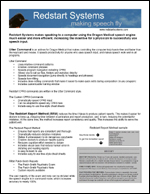 Contact us for more information about our medical products.



Utter Command works with the Dragon NaturallySpeaking Pro and Medical speech engines. It gives you one-step file, folder and Web site access, and document navigation abilities that outpace the keyboard and mouse.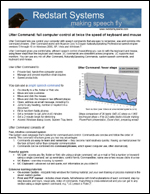 "Utter Command has significantly increased the efficiency and accuracy of my medical reports. Utter Commands documentation is well written, concise, and comprehensive. I found this system relatively easy to learn and, now that I have mastered it, I have much more time for other activities. Utter Command is an excellent product."
- Sheridan Smith, MD